At Brighton Management, giving back to the community is not only important, but a mission statement throughout the entire company. As our company's brand standard, all Brighton hotels must pledge support to a charity each year to make an impact in their local community. Events to benefit these organizations are organized by team members and include fundraising at the property, hosting programs for underprivileged or sick children, or going into the field to volunteer.
Additionally, our properties participate in fundraising for Brighton's Corporate Charities: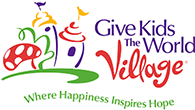 Give Kids The World is a non-profit organization that fulfills the wishes of all children with life-threatening illnesses and their families from around the world to experience a memorable, joyful, cost-free visit to the Central Florida attractions, and to enjoy the magic of Give Kids The World Village for as long as there is a need.
Over 143,000 children have had their dream come true at Give Kids The World. No child in need has ever been turned away – and no child ever will. Give Kids The World is a place where families find joy, laughter, serenity, and a lifetime of memories. Through the tireless support of our volunteers, employees and generous partners, we dedicate each and every day to these special families.
Brighton Management supports the efforts of GKTWV through fundraising on a portfolio-wide scale. In 2016, President Joseph Fan has pledged a donation of $175,000 to be raised by Brighton's hotels for the construction of a villa on the GKTWV campus in Orlando, Florida. We encourage our team members & partners to rise to the challenge & join us in reaching this goal. Donation Page for Brighton's $175k Challenge: http://support.gktw.org/BrightonManagement
---

The mission of Special Olympics is to provide year-round sports training and athletic competition in a variety of Olympic-type sports for children and adults with intellectual disabilities. We give them continuing opportunities to develop physical fitness, demonstrate courage, experience joy, and share personal skills, gifts of spirit, and friendship with their families, their fellow Special Olympics athletes, and the world. In all that we do, Special Olympics strives to awaken the world to the precious abilities and dignity of every human being.
Brighton Management & its hotels are proud to provide housing, food, and transportation to Special Olympics athletes throughout Southern California. Each holiday season, Brighton hosts a 'Special Olympics Boat Cruise' event in Ventura, where we invite local chapters to enjoy an evening of entertainment & festivities on our company boats in Ventura Harbor.
During the Special Olympics World Games 2015 in Los Angeles, Brighton hotel in Ventura & LA County were proud to host teams from all over the world, including the full Japan Special Olympics Team.


---

For more than 100 years, McKinley Children's Center has served as a community housing & education facilities for youth from underprivileged or troubled family backgrounds. McKinley serves as a pivotal point where the care and concern of the community-at-large turns into direct action and aid for some of its most vulnerable children. The Center has provided over a century of service to more than 60,000 boys and girls.
---